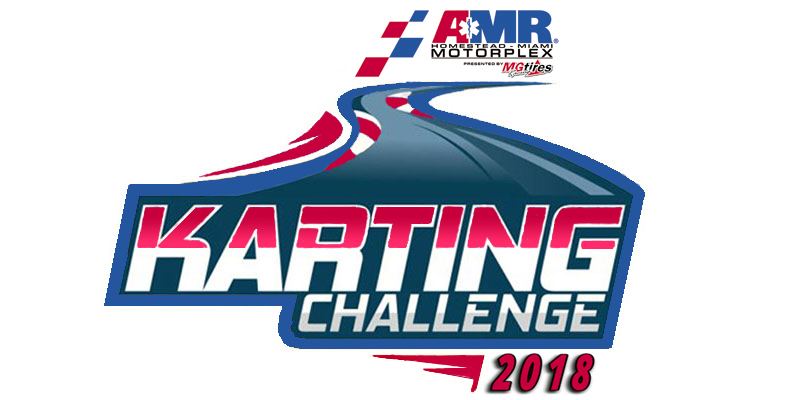 HOMESTEAD, Fla. (February 28, 2018) - A hot and sunny weekend welcomed racers back to the AMR Homestead-Miami Motorplex presented by MG Tires in late February for the 2018 Karting Challenge kickoff. 7 run groups featuring 10 total classes offered fantastic racing action throughout the day, featuring a couple of new winners and the biggest single class turnout to date. 
KOLAR UNSTOPPABle in tag mini
Jakub Kolar was simply phenomenal all day long in the TaG Mini category, completing a perfect day by qualifying on pole and leading every lap of both the Pre Final and Final. Max Garcia and Miguel Costa initially looked like they might have had something for the kid from Key West, but a little bit of battling amongst themselves and Kolar's raw pace took them out of contention.
A hard fought battle for the remaining two podium spots was one to watch, though. The Karting Experience driver Jimmie Lockhart as well as rookie Matias Orjuela made it a four-way fight for second, with Lockhart pulling off some aggressive moves in the closing laps to seal the deal. His teammate, Max Garcia, held onto third.
ANGLES V. PULICE V. TRANCOSO in tag senior
Although early on it appeared to be anyone's game in TaG Senior, three drivers rose above the rest by the time the main event came around. Manuel Trancoso and Jason Angles split qualifying the Pre Final, and they inevitably expected a duel in the Final. However, Jordan Pulice went to work throughout the day after a dismal qualifying run to join the fight.
All three drivers took turns at the lead before Trancoso made a move on Pulice for second with a couple laps to go, surrendering any chances of catching Angles. Angles cruised to the finish from there, with Trancoso holding off Pulice to nail down second and third.
A PAIR OF SPRINGS IN LO206 Junior and cadet
Brandon Spring continued to ride his wave of momentum from his championship-clinching win in the Winter Challenge finale in January, dominating the day in LO206 Junior. Newcomers to the class filled the majority of the field, with Manuel Rincon and Kevin Blanco clinching 2nd and 3rd in their respective debuts.
Younger brother Matthew Spring had a bit of a tougher fight of his own in LO206 Cadet, where he was joined by karting rookie Emma Smith. Emma seemed to have the outright pace early in the day, but after a great showing between the two in the Final, Spring came out on top with Smith settling for second.
Chilton snags first junior win in tag junior
TaG Mini hotshoe Ashton Chilton hasn't cruised to success by any means since advancing to the junior category, but in every outing thus far he has improved steadily; his win was coming soon. Alan Isambard got the upper hand early on in the day, but Chilton went to work and once again more speed was found. In the Final, Chilton stalked Isambard like a hawk until making his move with five laps to go and never looked back. New York driver George Megennis took third.
ECHEVERRYS TAKE 1-2 IN LO206 Heavy
Dario and Felipe Echeverry definitely had fend off a number of challenges in LO206 Heavy throughout the day, but when the dust settled, they came out on top. Todd Ulmen and RYSA Racing's Manny Sola both trailed the duo in the closing laps of the Final, but the Echeverrys never left each other's bumpers and made it impossible for any clean passes to be successful. Sola would go on to grab third with Ulmen just a tenth behind.
other notableS:
William Isais put on an absolute clinic in LO206 Senior, pitching a perfect day with an even bigger margin in speed than Kolar did in TaG Mini. He was set to have his International Motorsport teammate Michel Garrido join him on the podium, but Garrido suffered a mechanical failure running second. RYSA Racing's Elvis Faria and Canto Race's Vanderlan Junior rounded off second and third.
JC Karting's Salvatore Rodriguez took first in TaG Micro, with Jase Petty in second and Matteo Franco-Ruggiero in third. Meanwhile, Vincent Kupinski took the win in Shifter with Ernesto Correa coming out on top in TaG Master. 
UP NEXT: 
Up next is Round 2 of the AMR Motorplex Karting Challenge by MG on Saturday, March 31.
For more information on the Karting Challenge club series, CLICK HERE>>