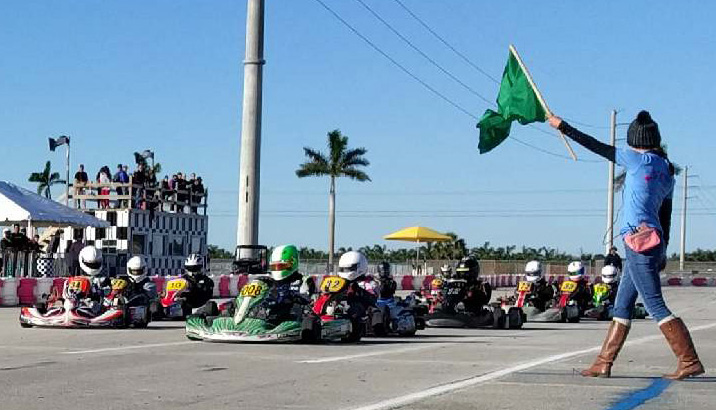 AMR Motorplex Karting Challenge Participants,
A couple points to take note of moving forward for the remainder of the season and year….
A number board will be used to grab the drivers attention when a message needs to be delivered while on track. The driver in questions number will be displayed on a number board along with either a rolled black flag, waving black flag, or waving mechanical flag (black flag with orange circle in the middle). If a rolled black flag warning is displayed, it is a warning. Something has taken place on track that did not please the officiating staff and it has been noted. This could be aggressive driving, excessive blocking, etc. If a waving black flag is displayed, the driver is being asked to remove themselves from the race track. If a waving mechanical flag is displayed, there is a mechanical issue with the go kart and is being asked to remove themselves from the race track. The number board is being used to better communicate with drivers and reduce confusion.
I want all competitors to feel that there is an open means of communication between them and myself, the race director. I am more than happy to have a conversation with any and all of you to discuss something or provide clarification. With that said, I will not have an argument. If you would like to present your case, I am more than happy to listen and take note of what you have said, but it will not become an argument.
Many of you use this series and other local/club/regional series as training ground for national events. I take my role in that training very seriously and want to see all of you that choose to compete on the national level be successful. With that being said, I am going to do my best to enforce the respect that we all want to see at national events, at the local events. Its no secret that the national races are in need of respect between drivers and I feel that starts at the local level. Certain classes are better than others but the message is the same for all karts on track. I NEED to see respect and regard for each others safety. Its my job to provide you all with a safe and legitimate race and track to perform at. It is not my job to teach you guys how to drive, that is your responsibility and the responsibility of those around you. However, if I see or hear of actions that don't meet the highest standard of driving, I will take matters into my own hands.
Thank you and best of luck moving forward,
Morgan Healey