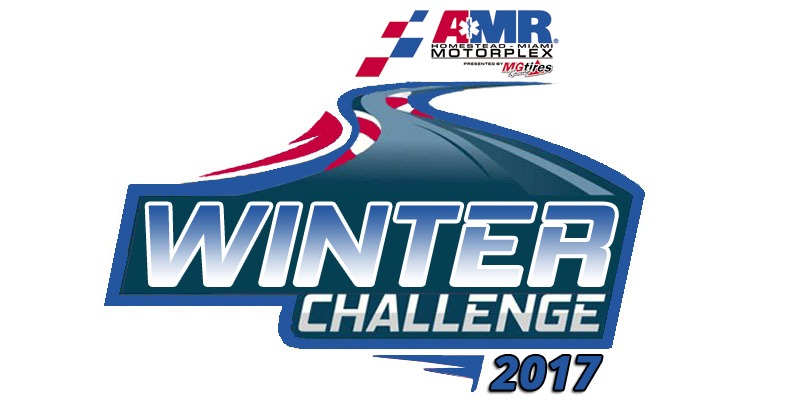 HOMESTEAD, Fla. (October 9, 2017) - AMR Homestead-Miami Motorplex presented by MG Tires is proud to announce the first championship held at the facility under VKG Entertainment ownership, the 2017-2018 AMR Motorplex Winter Challenge presented by MG Tires.
The championship will consist of three, single-day race events over the course of four months. The winter season will kick off on Sunday, October 29, 2017. The series will then take the month of November off, before returning for the second event on Saturday, December 10, followed by the final race on Sunday, January 7, 2018.
Each race event will host an array of Briggs LO206 and TaG classes along with an Open Shifter category. The shifter division will have numerous motors from the Stock Honda CR125 to the IAME 175cc Super Shifter, equalized by differing weights.
The first two rounds of the series will also be run in conjunction with the South Florida Karting Club Cup, offering LO206 Light, Medium, and Heavy divisions. The season finale will transition to the official class structure for the 2018 AMR Motorplex Karting Challenge presented by MG Tires, which will be announced in the coming weeks.
The TaG divisions will allow competitors to utilize IAME and Vortex Rok engines. Both the TaG and Shifter divisions will score points at each of the three rounds, accumulating towards a class championship which will be awarded at the finale in January.
The finalized series schedule and class structure are listed below, and more details such as weight and engine requirements will be released next week.
Round 1: Sunday, October 29th
Round 2: Sunday, December 10th
Round 3: Sunday, January 7th
LO206 Light** (Per SoFloKC Cup Rules)
LO206 Medium** (Per SoFloKC Cup Rules)
LO206 Heavy** (Per SoFloKC Cup Rules)
TaG Micro (IAME Micro Swift, Vortex Micro Rok / MG "HZ" Red)
TaG Mini (IAME Mini Swift, Vortex Mini Rok / MG "HZ" Red)
TaG Junior (IAME X30, IAME Leopard, Vortex Rok GP / MG "FZ" Yellow)
TaG Senior (IAME X30, IAME Leopard, Vortex Rok GP / MG "FZ" Yellow)
TaG Masters (IAME X30, IAME Leopard, Vortex Rok GP / MG "FZ" Yellow)
Shifter (IAME X30 Super Shifter, Stock Honda CR125, Mod Honda CR125, KZ, Vortex Rok Shifter / MG "FZ" Yellow)
**Offered at Rounds 1 and 2 Only, will be modified for Round 3